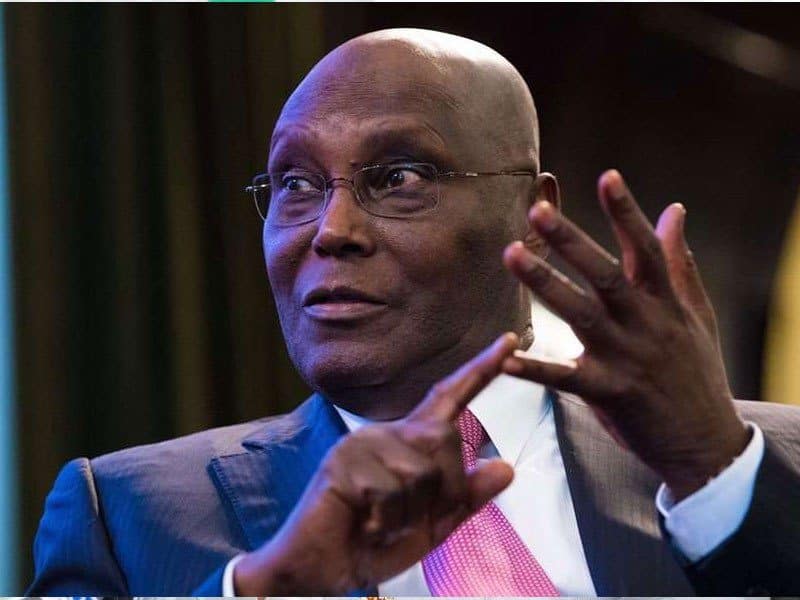 Atiku Gets Another Endorsement
Ahead of the forthcoming February 16 elections, the presidential candidate of the Peoples Democratic Party, Atiku Abubakar, has been endorsed by the son of MKO Abiola, Aliyu Abiola.
He revealed that his decision is as a result of Atiku's selfless contribution to Abiola's emergence as the presidential candidate of the Social Democratic Party in 1992.
In a letter titled "The truth about H. E Alhaji Atiku Abubakar Waziri Adamawa", Aliyu stressed that history must not be distorted or sacrificed on the altar of self-aggrandisement.
While calling on Nigerians to vote for Atiku he said, "Nigeria needs a thoroughbred democrat, not a converted one; someone that has a track record as a businessman, not someone who has admitted to not having any business. Above all, we need a President that understands international trade."
The letter which Aliyu personally signed reads: "My name is Aliyu Abiola. I am the son of late Chief MKO Abiola and a student of History as well as a lover of truth.
"As a man maligned, vilified and most times wrongly criticized in spite of his great philanthropy and support for worthy causes in Nigeria and across the globe, I understand the misconception and false allegations a successful man is subject to.
"Having said that, I want to start by saying I have never met either H. E. Alhaji Atiku Abubakar or President Muhammadu Buhari before so I don't want my stand to be viewed from a partisan perspective or self-interest hence the title THE TRUTH ABOUT H. E. ALHAJI ATIKU ABUBAKAR, WAZIRI ADAMAWA.
"I find this piece very important because we live in a country where history is optional in the Nigerian education system and in an era where opinions of most youths like myself are shaped by rumours, fake news, propaganda, half-truths and sometimes outright lies. It is, therefore, important we go back to the archives so we are not misled or misinformed.
"I am writing this article as someone whose family has contributed immensely to the democratic struggle of this nation. However, the truth remains that every struggle comes through a process, and in a democratic setting, we all know what the process is. Again, politics being a game of numbers, a man desirous of anything has to work with men of like minds to achieve his objectives.
"Before the military junta of General Ibrahim Babangida cancelled the freest and fairest elections in the history of this country, my late father was the candidate of the SDP (Social Democratic Party) and that was only possible due to the support he received from H. E Alhaji Atiku Abubakar Waziri Adamawa and his PDM block during the party's convention in Jos in 1992.
"H. E. Alhaji Atiku Abubakar sacrificed his presidential and even vice-presidential ambition for the late martyr and icon of democracy as my father later came to be known. This is very important because Alhaji Atiku Abubakar is presently being wrongly portrayed as a man who is overly ambitious and uncompromising, but history and track record show otherwise. It is, therefore, necessary for men of goodwill to speak up in defence of truth and history so that a man like H. E. Alhaji Atiku Abubakar Waziri Adamawa will not be robbed of his place in history or crucified on the altar of propaganda and lies.
"Nigeria's hard earned democracy is at the verge of collapse as democratic institutions are failing; court orders are not being respected even as judges are being harassed. Our population is growing at 4 per cent per annum while the economy is barely growing at 2 per cent per annum. Again, hunger has increased in the land to the extent that stealing of female underwears (pants) is now the most profitable business for our youths.
"It is my considered opinion that Nigeria needs a thoroughbred democrat at this time, not a converted one; someone that has a track record as a businessman not someone who has admitted to not having any business, and above all, we need a President that understands international trade as we all know that the Customs service, which Atiku has been part of, is an arm of the finance ministry which deals mostly with foreign trade. During an interview with Charly Boy when he was asked what he feared most in life, my late father replied without hesitation or equivocation, 'poverty'. It is for this reason that the Nigerian youths must vote H. E Alhaji Atiku Abubakar, Waziri Adamawa for the president to get Nigeria working again."