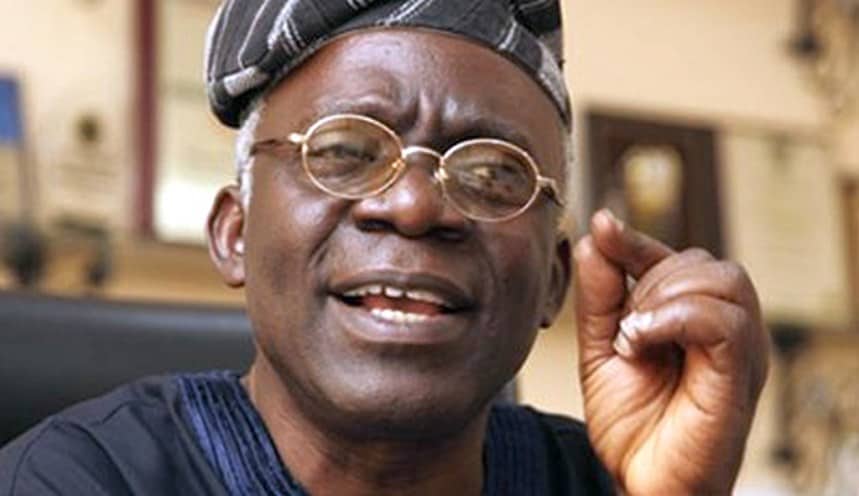 Femi Falana (SAN) has accused former President Olusegun Obasanjo of contributing to the problems facing the country.
He noted that the country would have been able to overcome its problems if Obasanjo had not rejected the Minority Report of the Constitutional Drafting Committee of 1976, co-authored by Drs. Segun Osoba and Yusufu Bala Usman.
Femi Falana stated this while speaking at the public presentation of the Minority Report and Draft Constitution of the Federal Republic of Nigeria (1976) at the University of Lagos auditorium on Tuesday.
Speaking, Falana said a majority of the problems being experienced in Nigeria today such as the raging insecurity, kidnappings, youth unemployment would have been addressed if the minority report had been adopted.
"Nigeria could possibly have avoided the current obstacles to genuine democracy and sustainable human development if some of the questions posed and the answers provided by Osoba and Usman, two leading lights of the Nigerian left, in their unambiguously progressive Report and Draft of 1976 had been considered," he said.
"As part of the initial steps towards the transition to civil rule in 1975, the regime of General Murtala Mohammed gave a committee of 49 eminent Nigerians the job of producing a draft constitution for the Second Republic, which was scheduled to begin on October 1, 1979.
"Two members of the Constitution Drafting Committee (CDC) fundamentally disagreed on ideological grounds with the report supported by the majority of 47 others.
"On the question of human progress, the philosophical divergence between the minority and the majority within the CDC was too wide to expect a compromise. Hence, the minority came up with the document under review today.
"By the time the report was ready, Murtala had been killed in an abortive coup and his second-in-command, General Olusegun Obasanjo, was now in charge.
"Regrettably, the Obasanjo regime rejected, in a most hostile manner, the Minority Report, as it is now known in Nigeria's political history.
"The report of the majority was decreed into the 1979 constitution, the basic content of which has formed the nucleus of the subsequent constitutions including the Decree 24 of 1999, otherwise called the 1999 constitution.
"Let us quickly dispense with the regrets, as the actual spirit of this occasion is to engender hope about the future of Nigeria.
"A critical reading of the publication being presented today would bring to the fore the radical diagnosis and the extraordinary prescience in the prescriptions for the Nigerian condition made by the authors.
"This is despite the fact that the authors, Dr Olusegun Osoba and Dr Yusufu Bala Usman, both radical historians, wrote 43 years ago that they never pretended to put forward 'a perfect document'.
"In the true tradition of self-criticism that is the hallmark of leftist thinkers, they readily admitted 'faults and inadequacies' in the document."