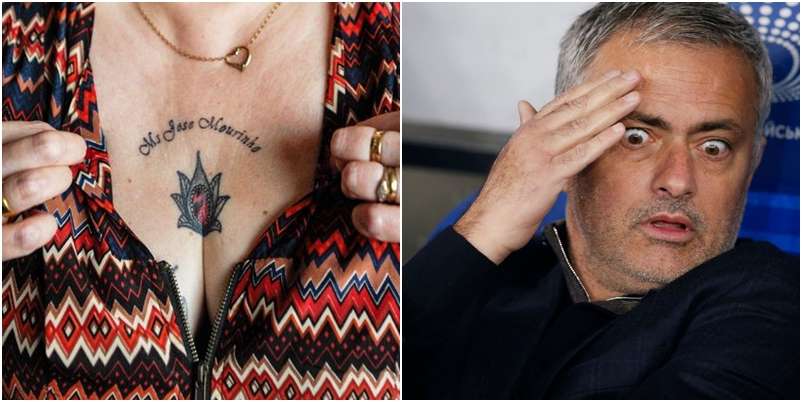 Jose Mourinho obsessive Viv Bodycote, 62, now has 38 tattoos of 'The Special One' inked on her body – all because he "melts" her.
"But it's definitely worth it, because I love him. And I'm willing to spend more. In fact, I'm already thinking about what I can do next."
Viv got her first Mourinho tattoo in 2017 after he arrived at Old Trafford following his Chelsea dismissal.
His good looks, immaculate dress sense and anti-establishment attitude were what spurred her on to get a tattoo.
"He's the best knees," she purred.
"Jose's good-looking, he's smart and I love what he's achieved as a manager. He absolutely melts me.
Bodycote is smitten by Jose Mourinho's good looks
"I would put him on a pedestal above all the other managers, including Pep Guardiola.
"The only one that comes close is Mauricio Pochettino. But he's still not a patch on Jose.
"Watching him manage and coach a team is very sexy. And I bet he smells nice to!o."
After Mourinho was sacked by Manchester United, Viv stopped supporting the Red Devils.
She admitted she was left devastated when he went on a managerial hiatus before accepting the Spurs job.
But now that he's back in the Premier League, Viv has joined Tottenham's cause and will be following Harry Kane and Co, while cheering on her crush.
"Wherever Jose goes, I go," she told us.
"I followed him at Manchester United, and I think he was poorly treated there. It was painful to watch.
"I don't think it was Jose's fault, there's something wrong at that club because history is repeating itself with Ole Gunnar Solskjaer. And looking at the bigger picture, they are actually worse.
When it was announced that Mourinho was returning to the Premier League with Tottenham Bodycote was delighted
"But when he got the Spurs job I was relieved for him. I went and got every single paper, was reading every report online, I just couldn't get enough.
"I was like a kid in a sweet shop, dancing around the house, kissing the pictures I have of him dotted around the house. I was just made up."
read also: Man Utd star's wife recounts what he dislikes about ex-boss Mourinho
"I can definitely see Spurs finishing in the top four this season. Next season, I believe he will get us challenging for the league title."
The post "He has the best knees"….reveals 62-year-old Mourinho fan who gets 38th tatoo for Special One appeared first on Sporting Life.