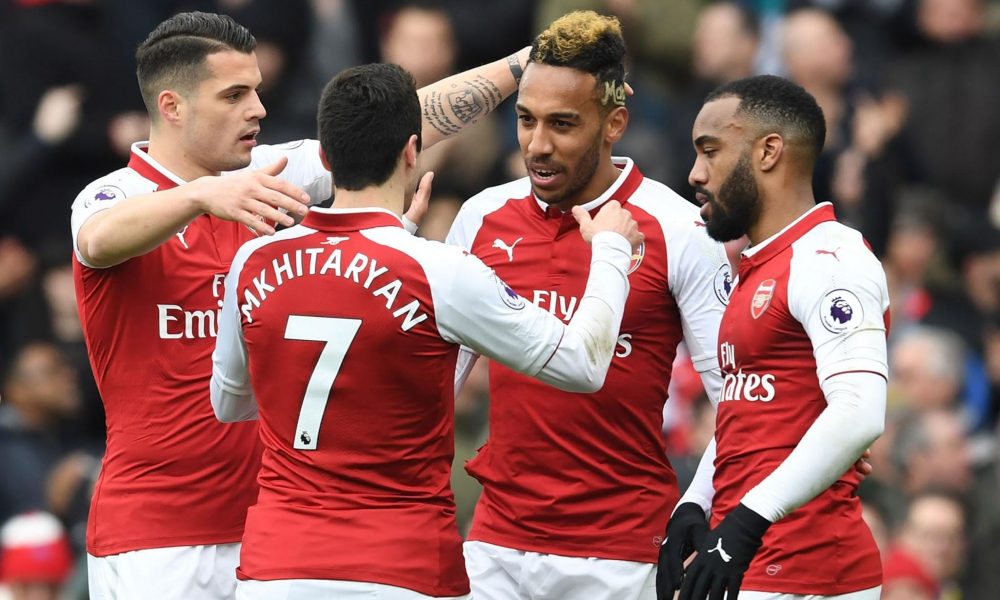 This is Naija News compilation of the latest Arsenal news online for today, Saturday, May 11th, 2019.
Arsenal hero Pierre-Emerick Aubameyang named Uefa Europa League Player of the Week
Arsenal forward Pierre-Emerick Aubameyang has been named the Uefa Europa League Player of the Week.
Aubameyang scored a hat-trick as Unai Emery's men thrashed Valencia 4-2 in the return fixture of their semi-final clash on Thursday to set up a final clash against Chelsea in Baku on May 29.
The Gabonese star saw off competition from teammate Alexandre Lacazette and Chelsea duo of Kepa Arrizabalaga and Ruben Loftus-Cheek to win the weekly recognition.
Arsenal issue Henrikh Mkhitaryan statement amid fears Armenian could miss Europa League final
Henrikh Mkhitaryan is set to miss the Europa League final in Baku later this month unless UEFA can provide Arsenal with guarantees of the Armenian international's safety that they have so far failed to do.
Mkhitaryan has missed games in Azerbaijan for Arsenal and Borussia Dortmund in the past, including the Europa League group stage match against Qarabag earlier this season.
Armenia and Azerbaijan have no diplomatic relations due to conflict over the disputed Nagorno-Karabakh region.
"The safety and security of all of our players is of paramount importance," an Arsenal spokesperson said. "We are seeking guarantees from UEFA that it will be safe for Henrikh Mkhitaryan to travel to Baku for the Europa League Final, which both Arsenal and Micki require for him to be included within our squad.
"Acceptable guarantees have not been received yet, and we hope that UEFA will be able to supply these promptly. We are of course hugely concerned that the location of the final could lead to Micki not being able to play in a European final."
Europa League: Watch All The Goals And Highlights From Arsenal's Game Against Valencia
Arsenal completed the routing of the Italian club, Valencia on Thursday with a 4-2 demolition of their opponents to book a place in the 2018/2019 Europa League finals.
Three goals from Pierre Aubameyang and one from Alexandre Lacazette ensured the Europa League final for this year will be an all English team affair after Chelsea also defeated Frankfurt to book a place in the finals.
Arsenal had earlier defeated Valencia 3-1 at the Emirates stadium and Thursday's victory gave them a 7-3 aggregate win.
Watch the highlights here.
More Arsenal News can be found on the Naija News website.