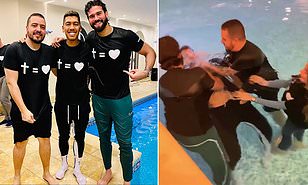 Liverpool star, Alisson Becker has made another great save – saving the soul of the wife of football rival Fred.
Alisson conducts more baptisms than concedes goals in 2020 after Liverpool keeper helps Fred's wife in pool ceremony https://t.co/Ie4ovMAmMZ

— Irish Sun Sport (@IrishSunSport) February 5, 2020
The devout Christian conducts baptisms in the swimming pool of his home along with wife Natalia.
Monique uploaded a video of the ceremony – conducted last month – to Instagram this week and wrote: "This day! The day that will always be marked on my heart and soul.
"The day of my encounter with Jesus Christ, where I felt his presence and felt that it was the most certain and important choice of my life.
"Where I gave my life and all my heart to him. Even if I wanted to, I wouldn't be able to explain everything I felt that day and how you have been transforming my life and the life of my family.
View this post on Instagram

O que Deus fez por nós na noite do dia 14/01/2020 jamais esqueceremos!! Ainda estou sem palavras pra descrever o amor de Jesus! Muito feliz de ter participado de um momento como este, do batismo de pessoas que amo tanto! Muito obrigado Jesus, eu te amo!!!
"I could not fail to thank my dear friends @natalialbecker and @alissonbecker who introduced me to life in Christ Jesus and with their testimonies has been transforming the lives of everyone around them, including mine! Thank you for making me feel true love.
"You are a blessing in our lives! Thank you God, for doing your works in my life. I serve the Lord."
Read Also:Firmino baptised as Liverpool team-mate Alisson sheds tears of joy
And Alisson said of the event: "What God did for us we will never forget !!
"I'm still speechless to describe Jesus' love! Very happy to have participated in a moment like this, the baptism of people I love so much! Thank you so much Jesus, I love you!!!"
The post Liverpool star engaging in more baptisms than he's let in goals appeared first on Sporting Life.