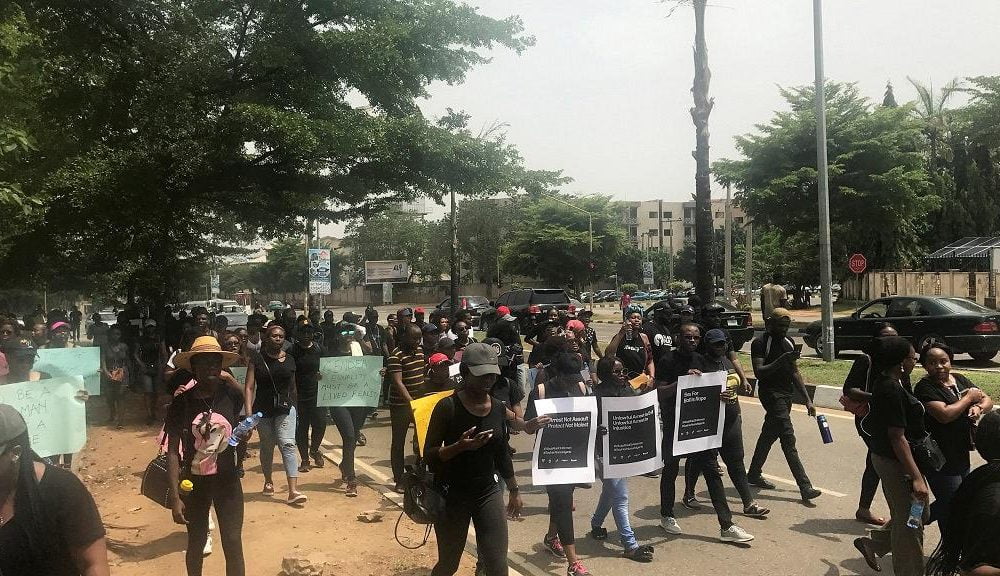 "In Nigeria, being a woman, young, is already a crime," asserts Jenny: arrested two weeks ago in Abuja, while returning home, the young woman claims to have been raped by those supposed to protect her.
"Around 9:30 or 10:00 pm, I was walking back home when the police arrested me, accusing me of being out late. They asked me to pay ₦4,000, but I had no money on me," told AFP this makeup artist of 25 years.
"They took me to thickets, behind a building. They were four. They molested me, and while three of them held me by force, one of them raped me, without a condom ".
In two spectacular raids on April 17 and 26, dozens of women were arrested in nightclubs, strip bars, hotels or in the streets of Nigeria's capital city on the pretext that they were prostitutes. – what many of them have firmly denied.
The scandal, relayed in the press, provoked a wave of indignation on the social networks and revived the debate on the rights of the women in Nigerian society.
The testimonies collected by AFP, overwhelming, report arbitrary raids and multiple sexual assaults, by a special mixed intervention force composed of administrative officers of the Federal Capital Territory ( FCT ) and police officers.
Lawyer and activist Martin Obono, who was at the Utako police station on the night of April 26, was the first to raise the alarm: "I saw the girls come down screaming vehicles. Some were bleeding and told me that they had been raped with objects during their transfer ".
"There was a mother with her two-month-old baby, they did not allow him to breastfeed her despite her entreaties and tears until a female officer intervened," he explained.
"Religious sin"
On that Friday, 22-year-old Blessing * was invited to a reggae party at a hotel in Abuja and bought a bottle of water at the reception when the police stormed.
"They dragged me outside calling me a prostitute, and took me to the Utako police station," says Blessing, who describes a punch operation involving "many vans and pickups."
"They picked up about 70 girls. The police came to provoke us in our cell, they watched us change, we touched the chest and gassed us several times "with tear gas, she assures.
According to Blessing, some 60 girls have finally been able to return home: "Some have paid bribes, others have agreed to sleep with police to be released. There is a building under construction in the police station. That's where they went.
A spokesman for the Abuja police told AFP he would not be available "until next month". Multiple calls and messages sent to other federal police officials also went unanswered.
Police chief Abayomi Shogunle, however, recalled on his official Twitter account to "those who make the noise" that "prostitution is a crime punishable by law" in Nigeria, without responding to allegations of rape.
"Prostitution is a sin according to the two dominant religions (Islam and Christianity)," he said, adding that, "medicine says prostitution spreads AIDS" or "prostitutes do not pay taxes" ".
Already convicted
On Monday, 27 of the young women arrested last month were brought to a court in Abuja and sentenced to one month suspended prison sentence and a fine of ₦3,000 for prostitution.
In an open letter, 72 intellectuals, activists and human rights NGOs last week condemned "the public humiliation, sexual assault and harassment of more than 100 women" during the raids.
They say they are "shocked by the conviction of many of them in an unfair trial" and ask "the federal authorities to investigate all allegations of abuse and violence, including rape, of which these women were victims ".
Most of the 27 convicts were also "forced to plead guilty even before having access to a lawyer, in exchange for their freedom," told AFP Jennifer Ogbogu, who defended several of them during of the trial. "Some were prostitutes, others were not, but in no case can this justify their rights being violated".
This is not the first time that Nigerian security forces have been accused of sexual assault under the guise of wanting to enforce morality.
In October 2017, the Court of the Economic Community of West African States had already sentenced the Nigerian government to pay ₦18 million in damages to three women "illegally arrested, detained and declared prostitutes" "In Abuja by the same force that operated the recent night raids.
"They know we are weak, and they do not consider us human beings," Jenny says, her voice shaking. "All this must stop, they must be punished".
The names have been changed to guarantee the anonymity of the victims