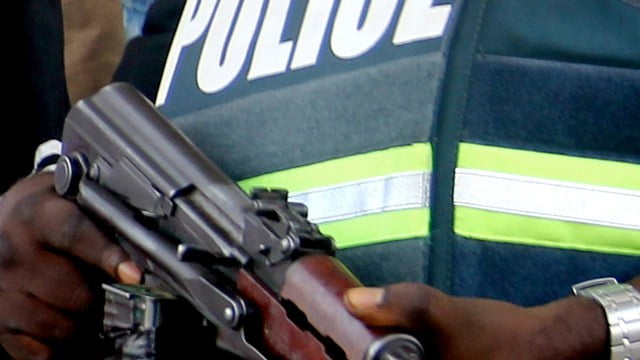 Mrs. Margaret Etim Udoh, a Senior Nursing Officer at Nung Udoe Health Centre, Akwa Ibom state, has petitioned the Acting Inspector General of Police, Muhammed Adamu, over alleged sexual assault, mutilation and abuse by men of the IGP Intelligence Response Team (IRT) on her.
She also called on the Nigerian Bar Association, Civil Liberty Organizations and other civil rights movements to come to her aid and redeem her dignity as a woman, saying "my dignity as a woman has been trampled upon by the supposed law enforcement agency that should protect me. I seek justice for my abuse."
Udoh on Tuesday, however, narrated to some journalists amidst tears that the IGP Intelligence Response Team (IRT) allegedly invaded her residence at St. Christopher Avenue, Nung Udoe, Ibesikpo Asutan Local Government Area of the state on Saturday, April 13, 2019, at about 1:00 am.
According to her, "I am a divorcee. I live alone in my compound. Unfortunately for me, I do not have any surviving child and this has cost me my marriage of 18 years. I spend most of my time in the church and my station at Nung Oku Health Centre. I was terrified and awoken by heavy bangs on my gate at about 1 am on Saturday night and before I could gather myself to see who was responsible for the bang, I saw men jumping through the fence into my compound.
" They headed to the front and back doors and immediately started banging the doors. It was at this point that I summoned the courage and started making calls to my relations and my neighbours for help.
"When the intruders heard that I was making calls, they shouted at me to put off my phone and told me that they were policemen. They asked me to open the door, which I refused. My refusal was based on the fact that there have been incessant cases of armed robbery in the area for a while now.
"It took the intruders two hours to break into my house by using axes, hammers and broken blocks. They met me inside the toilet where I ran into and they dragged me out and uncladded me. One of them used his hand to abuse my private part and breasts. He even called me a witch with an unattractive private part. I was seriously manhandled. My doors, ceilings and windows were completely shattered.
"Eventually, they asked me to produce my husband and I told them that I am a Minister with Mountain of Fire and Miracle Ministry and that my husband divorced me 18 years ago. At that point they allowed me to dress up and later took me outside where two Hilux Vans were waiting with over 20 policemen.
"I was taken to Nsit Ibom Local Government Area that night. One of them said they should kill me and throw me away that I am a witch but another said it was not yet time.
"Amidst the argument, I was taken to B-Division in Ewet Housing Estate, Uyo. I was not told of my offence and crime but was thrown into the cell. So, I was there in the cell for the first time in my life. I was denied access to phone. I stayed there till about 3pm. I got to know my offences, as written on the Entry Board at the station when I was released.
"Robbery and Kidnapping was written against my name, Margaret Etim Udoh. I was asked to put down my statement and that I should include in the statement that I obstructed the police from entering my house and that I allowed the suspect to escape. They asked me to go and report back on Friday. Before I left the station, I overheard one of them saying it was a case of mistaken identity."
However, when contacted, the Police Public Relations Officer in the state, SP MacDon Ogbeche, said he was yet to be briefed on the matter, promising to feed the press as soon as the information was made available to him
"I don't think that I have such information at my disposal, however, I will investigate into it," Ogbeche said.
Reacting to the incident, a member of the family and retired Superintendent of Police, SP Antia Umoren, who signed the bail bond, said "Mrs Udoh was seriously manhandled and falsely charged for robbery and kidnapping.
"When I asked to know what she was being charged for, I was told that she was charged for kidnapping and robbery. When I got to the station, I saw her name boldly written on the suspects' board. When she was eventually brought, tears ran down my eyes because she was seriously manhandled.
" Her name was registered on the Prisoner Lockup Register and all the items collected from her including the sum of N137,000 was entered into that register. I was kept at that station till about 4 pm. I am talking to you as her surety. I signed the bail bond. I have been a police officer and till my retirement, police have never been assigned to carry axe, sledgehammer and other tools."