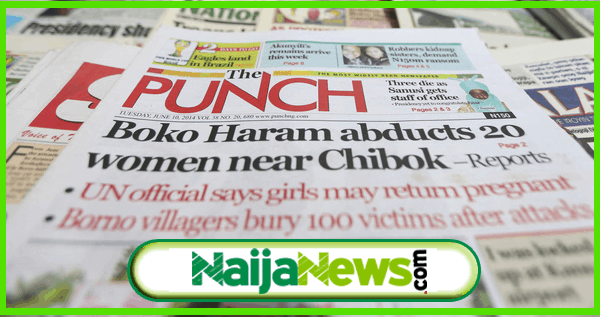 Here Are The Major Nigerian Newspaper Headlines Today Thursday, 2nd May 2019
1. WAEC Certificate: Buhari Lied About Credentials – Atiku
The Peoples Democratic Party (PDP) and its candidate in the last presidential election, Atiku Abubakar has said President Muhammadu Buhari lied about his academic qualifications.
They argued that Buhari's claim, in his response to the petition they filed at the Presidential Election Petition Tribunal (PEPT), that he (Buhari) was more qualified than Atiku, was also a false assertion.
2. APC Suspends Former Ekiti State Governor, Segun Oni
The All Progressives Congress in Ekiti State, has suspended former Governor of the state, Segun Oni, for alleged involvement in anti-party activities.
The party in a letter dated 1st May and addressed to the former Governor, APC stated that it took the decision over his failure to appear before the ward executives to clear the allegations against him.
3. President Buhari's In-Law Kidnapped In Katsina State
The district head of Daura, Alhaji Musa Umar has been kidnapped by four unidentified gunmen on Wednesday evening.
Naija News gathered that the kidnappers stormed Umar's Daura residence around 7pm, and sporadically shot into the air, scaring bystanders away.
4. New Minimum Wage: Buhari Assures Workers On Implementation
The Federal Government has promised workers that it will fully implement the N30,000 new minimum wage in the country.
The assurance was given by president Muhammadu Buhari gave the assurance while addressing workers at the 2019 May Day celebration on Wednesday in Abuja.
5. Edo State: Gov Obaseki Speaks On Rift With Adams Oshiomhole
Gov. Godwin Obaseki of Edo state on Wednesday, denied any form of disagreement between himself and the National Chairman of the All Progressives Congress, Comrade Adams Oshiomhole.
Obaseki spoke upon his arrival at the Benin Airport when he arrived back in the state following a one-month vacation outside the country, Naija News reports.
6. WikiLeaks Co-Founder, Julian Assange Jailed For 50 Weeks
WikiLeaks co-founder Julian Assange is to spend roughly a year in Jail for breaching a British court order seven years ago when he took refuge in Ecuador's London embassy to avoid extradition to Sweden.
Naija News recalls the Australian whistleblower was arrested on April 11 after Ecuador gave him up.
7. Workers' Day: Ngige Declares Buhari As Nigeria's Most Worker-Friendly President
Nigeria's Minister of Labour and Employment, Chris Ngige has declared that Muhammadu Buhari is the most labour-friendly President the country has ever had.
The minister made the declaration in a statement issued and made available to newsmen on Tuesday in commemoration of the 2019 Workers' Day celebration.
8. ADP Suspends National Chairman, Appoints Replacement
The National Working Committee (NWC) of the Action Democratic Party (ADP) has suspended the National Chairman and Presidential candidate in the February election, Yabagi Yusuf Sani.
The NWC has appointed former Minister of State, Agriculture and Deputy National Chairman (South), Alhaji Najeem Awodele as acting national chairman pending the conduct of a congress.
9. Workers' Day: Gov. Umahi Sacks 400 Technical Assistants, 64 Coordinators
Ebonyi State Governor, David Umahi, on Wednesday, decided to sack more than 400 Senior Technical Assistants and Technical Assistants.
Take to note that Nigeria is celebrating workers day today, May 1, 2019.
10. Porto Goalkeeper Casillas Suffers Heart Attack
Porto goalkeeper Iker Casillas was rushed to hospital on Wednesday after suffering a heart attack during training but is now out of danger.
Former Spain international felt discomfort in his chest at the end of the morning training session and was taken to CUF Porto hospital.
That's the top Nigerian newspaper headlines for today. Read more Nigerian news on Naija News. See you again tomorrow.