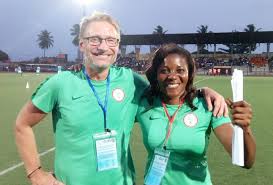 Super Falcons Assistant Coach Maureen Madu has urged her players to win the WAFU Cup tournament starting tomorrow in Cote d'Ivoire for her as her birthday gift.
The former Falcons star disclosed this to Sportinglife.com.ng this morning shortly after the team's training in Abuja.
"I was surprised to see my boss Thomas Dennerby and the players singing happy birthday song for me while the Chief Coach and one of the crew surprisingly threw me up to celebrate my birthday. I was reallynsurprised.
"i am using this opportunity to thank my Head Coach Dennerby, the players and other members of the technical crew and backroom staff for their love and support.
Read Also: France 2019: We are monitoring our players-Falcons Coach
"I have actually charged the team to play well and win the WAFU Cup Trophy for me as my birthday gift. They have promised to win and present the Trophy to me as my birthday gift which the Chief Coach fully supported", Madu told Sportinglife.com.ng.
The post Falcons coach, Madu wants WAFU Cup as Birthday gift appeared first on Sporting Life.