Manchester City boss, Pep Guardiola says playing at Old Trafford no scares him or his players.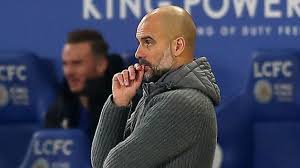 City are up against Manchester United tonight at the Old Trafford, a match which they have to win to keep their Premier League title hopes alive.
Before Sheikh Mansour's took over City, they had struggled for results at the home of their local rivals ailing to win there between 1974 and 2008.
That has changed in recent times as they have lost just once there in their last seven Premier League visits.
Guardiola has won both his matches at Old Trafford as Manchester City boss, both 2-1 victories
Guardiola said: "I don't make theories about what happened in the past or for what is going to happen in the future. Every game is completely different from the previous one.
"The most important reason why is maybe the fact this club, in the last decade, grew a lot and that is why it is not scary to go there when before it was more difficult.
"The players Manchester City have had in the last 10 seasons have made this game a little bit more equal when before the gap was bigger. Maybe that is the reason but honestly I don't know."
Victory for City would take them back to the top of the table having played the same number of games as title rivals Liverpool. With three matches to go, they would then be clear favourites for the crown.
The post Guardiola: Playing at Old Trafford does not scare me appeared first on Sporting Life.